Mrs SASMITA & Mr KAILASH CHANDRA SAHOO

Works at Western Coalfields Limited
Date of Travel: 19-December-2012 / Nights: 7 Package: 7N-4PB1NILI2HLBT
City: Rajura , Chandrapur, Maharastra Email: kailash1966@gmail.com

17/12/2011, Saturday - Today I woke up at 7.30 am. I came to Hyderabad by train with my Parents and brother. We are staying in a hotel.
18/12/2011, Sunday - My grandparents arrived from Puri by train. All of us went to the Hyderabad airport by Taxi. We caught an Airindia flight at 6.00 pm and reached the Chennai airport at 7.00 pm. We are staying at the airport dormitory.
19/12/2011, Monday - We caught the Kingfisher airlines at 4.00 am for Portblair. We reached Portblair at 6.30 am. We are staying at Hotel Abhiskeakh. We go for lunch at 1.00 am. We went to beaches, chatam saw mill & at the end we went to see sun set in Chidiya Tapu.
20/12/2011, Tuesday - Today I woke up at 6.30 am. We go to see North Bay Island, Ross Island and Wiper Island. We went to this Island by Boat. In North Bay Island we do very fun. In that island my father, my brother and my mother done shorkelling. And my father and my brother done water scooter. After this island we went to Ross Island. We saw many animals. After this we went to Viper Island. We saw open jail. We come back at 5.30 pm.
21/12/2011, Wednesday - We left Port Blair at about 6.30 am. We reached the Neil Island at 9.30 am. We checked into the Tango Beach Resort. We visited Laxmanpur beach, Sitapur beach and Bharatpur beach. Also we saw Natural Bridge. Tonight we are staying at Neil Island.
22/12/2011, Thursday - Today we enjoyed very much. In Tango beach we play there very happily. Me and my brother make a tunnel on sand. We left the Neil Island at about 1.30 am and we went to Havelock Island in evening we went to market and we buy shirts.
23/12/2011,Friday - We left the Bay View Inn at 9.00 am and first we went to Kalapatter beach and Radhanagar beach. We meet Dr. Anand uncle and his family. We left Havelock Island by Mv North Passage ship and reached Port Blair at about 7.00 pm.
24/12/2011, Saturday - Today I woke up 3.00 am. We started travelling to Baratang Island. We saw Jarwa tribes in the way. We eat cucumber. We saw lime stone cave and mud volcano. We come back at 6.30 pm. We gone for dinner at 8.30 pm.
25/12/2011, Sunday - Today I woke up at 7.00 am. We went Cellular jail, Navy Museum and Gandhi Park. We come back at 3.00 pm. We gone for dinner at 8.00 pm.
Written by:SWOSTI SAMARPITA SAHOO
Class ? 3rd B Mobile no.: 9822468376
Montfort Higher Seconday School
?Bamani? ?Ballarshah?
Swosti is the daughter of Mrs & Mr Sahoo aged 8 about years. She is a student of 3rd B standard in Montfort higher secondary school, Bamani, Ballarshah. MyAndaman has appreciated her effort and presented a letter of appreciation
(click on the photos to read them)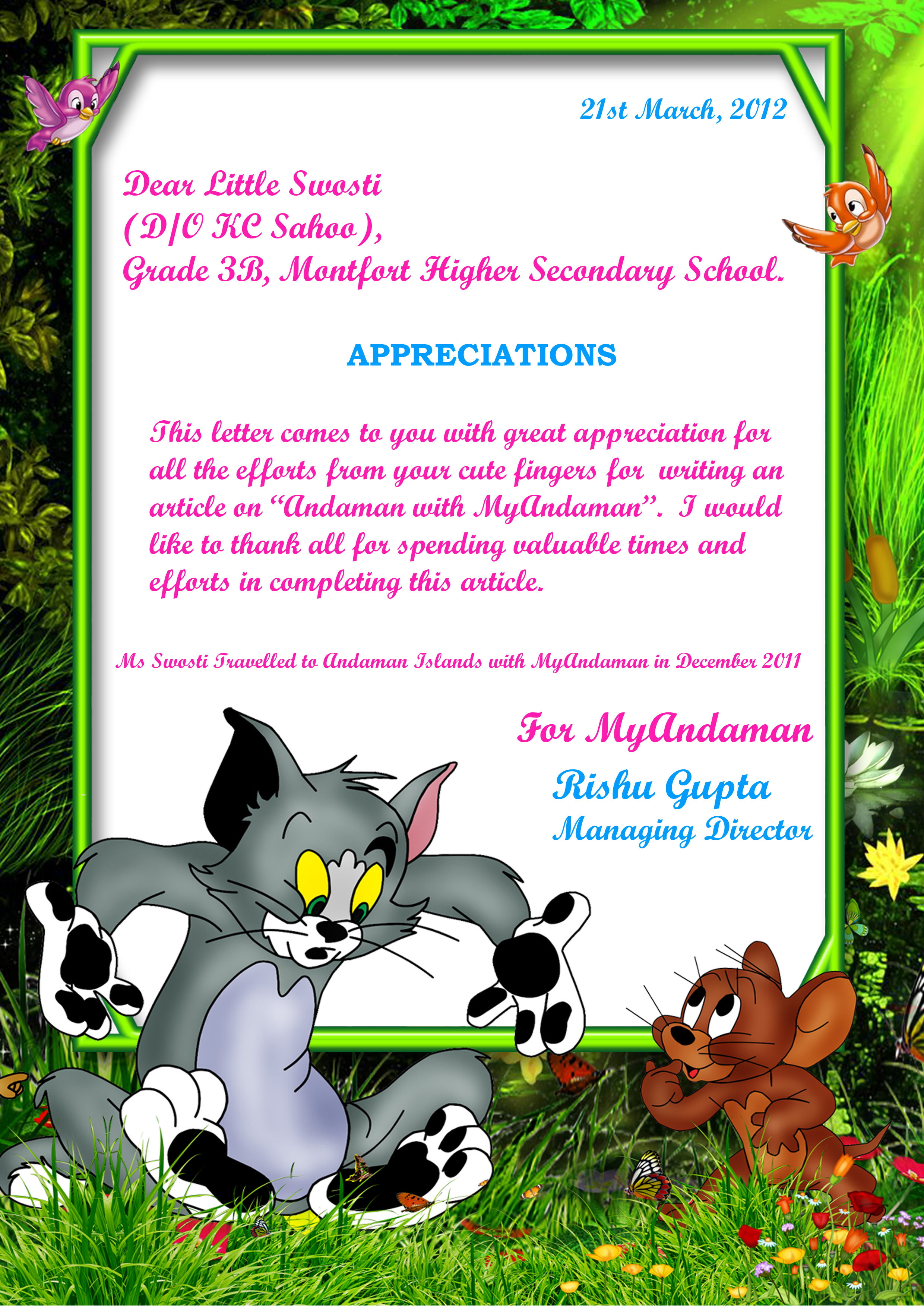 Letter of appreciation
Her cutie hand written document can be read here.
(click on the photos to read them)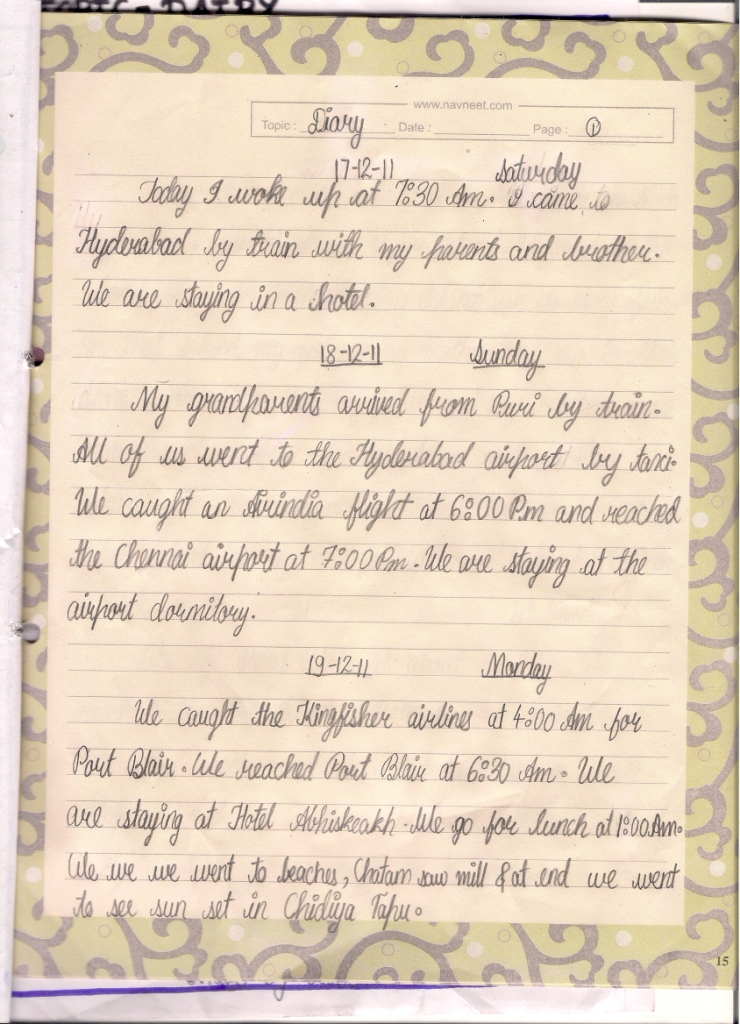 Page 1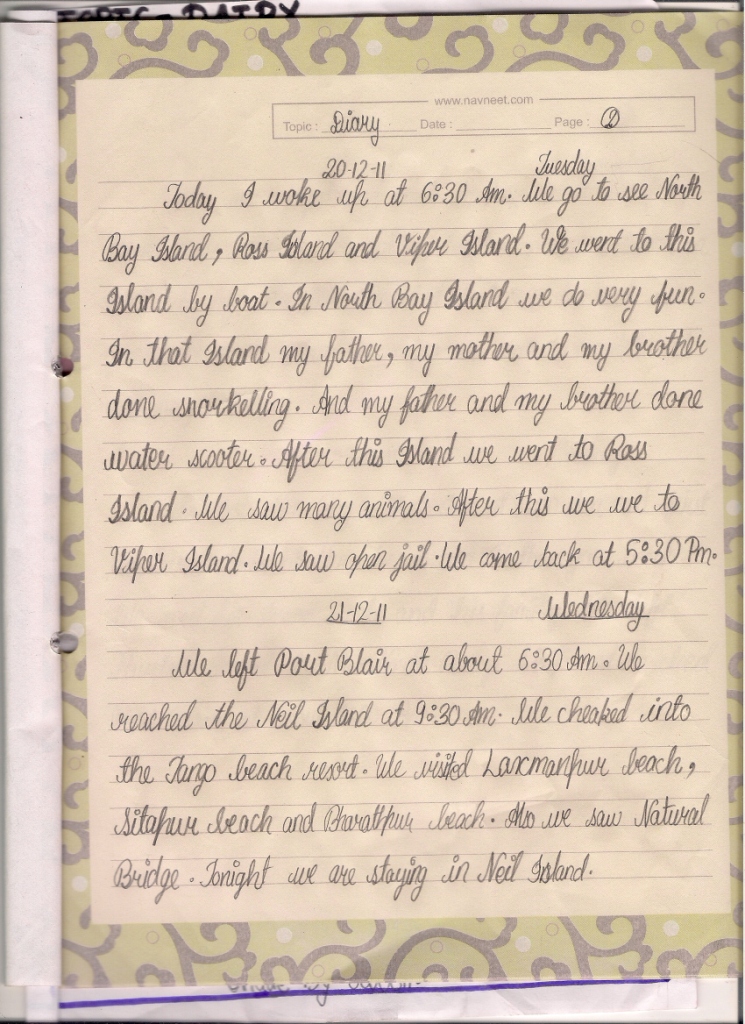 Page 2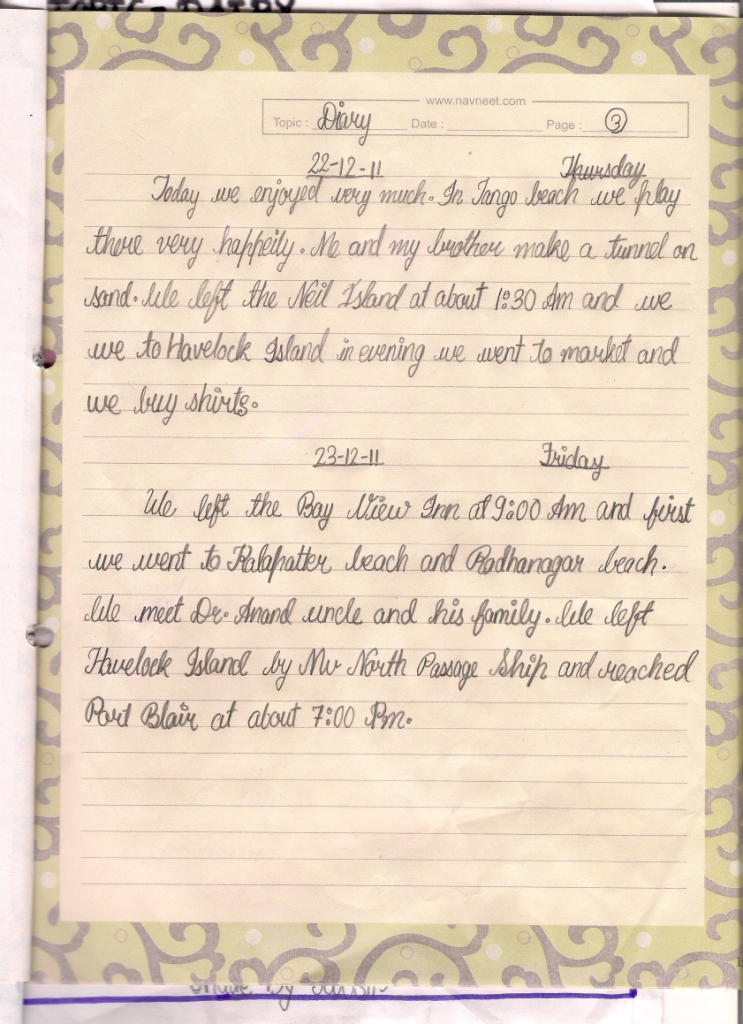 Page 3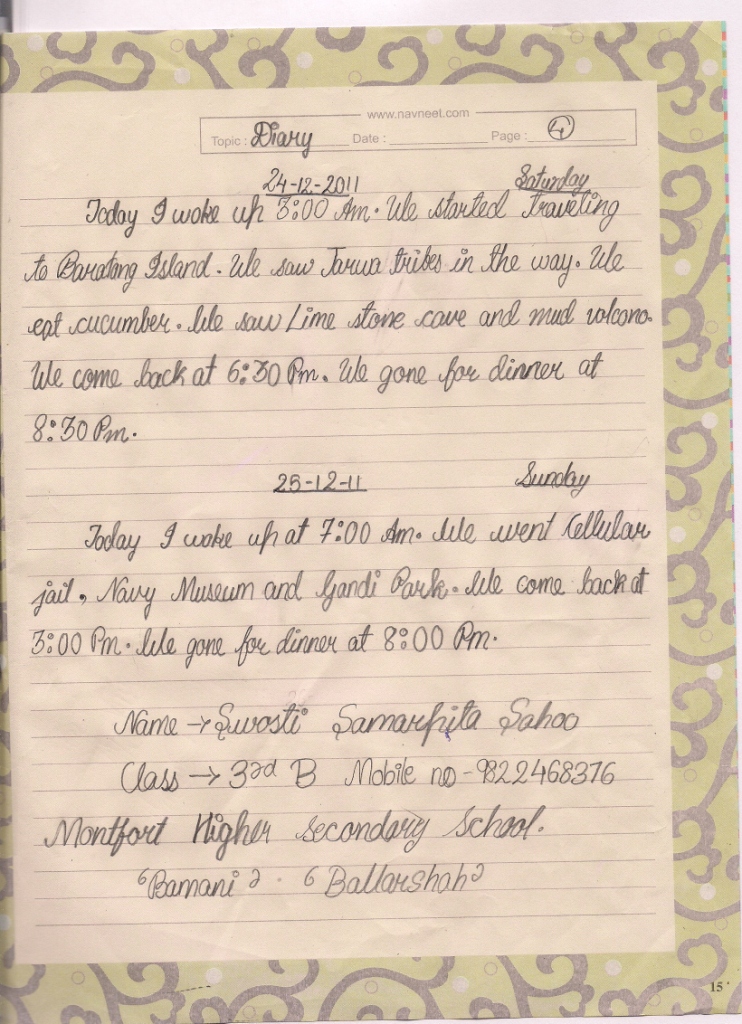 Page 4
Note: This is an unique initiative from myandaman.com to bring the real and candid feedback, reviews about Andaman and Nicobar Island to the world from the real tourists visited Andaman Islands with myandaman.com. All the facts and reviews expressed in the articles of myandaman.com are as on the date of travel by the guest who has written the particular article. Neither myandaman.com nor the writter of the article is responsible for any difference in the facts expressed in the article and the actuals. MyAndaman congratulates and thanks each one of the appreciator/contributor for this honest cause. Lets dive into the ble and come oout green :)
More Articles