Master Jaspreet Singh Anand s/o Mrs Jagneet Kaur Anand & Mr Harpreet Singh Anand

Professor at Delhi University
Date of Travel: 8-December-2011 / Nights: 7Package: 7N-4PB1NI2HL
City: Patel Nagar, Delhi Email: hsanand_2000@yahoo.com

My Trip to Neil Island
Out of my eight days trip to Andaman Island, I had gone for Neil Island for a day, but it was a memorable and good experience. I had got up very early at about five o' clock in the morning at a resort in Port Blair. I got dressed and took some sandwiches and boiled eggs for breakfast to eat in the ship. I took the ship from Port Blair to Neil Island from 6.30 am to 8.30 am. When the choppy journey started, we had our sandwiches and boiled eggs. We also bought some tea after finishing breakfast, I started reading my novel. After half an hour, my mother started vomiting. After a while, I also started to have that feeling. As I was going to the washroom my thumb was crushed inside the door when it was closing. I forgot all about vomiting. People nearby helped me and applied balm on it.
Rest of journey I spent sleeping, when we reached there, a car was waiting for us and took us to our Tango beach resort. The weather there was very pleasant. We were given a cottage and a mosquito net covered the net. Our resort was also facing a beach. After changing our clothes, we were offered very delicious food. Then, we visited a doctor in the Primary Health Centre to show my injured thumb. The doctor prescribed some medicines and told us that it was not fractured. That relieved me and we set off for Bharatpur beach. We put on our swimming gear and went into the sea. After going to a certain depth, (the depth of the sea was not much) we started swimming. We saw the corals there. After swimming for some time, we went towards some shallow water, and sat down and enjoyed the light waves. When we were coming out, we saw some children. They called out to us and asked for photos. We took their photos, and a video of them singing songs. After got out of the sea and dried ourselves, we noticed that the water had gone back because of low tide. Then we went to Laxmanpur beach - 2. After walking for a while we saw a natural bridge. We took some photograph and then went to a shop 'More than coconuts, where we took some chips and bought coconuts. Next we went to Sitapur beach. I was in no mood to wet myself once again. But my father forced me to atleast dip my feet. Then he persuaded and cajoled me to wet myself till the knees without wetting clothes.
I was enjoying the water splashing against me, so I changed into my swimming gear and went further into the water. At about 2.30 pm , we went upto our car and had some refreshing coconut water. Surprisingly, there was a lot of water in the coconuts, so much that none of us could finish it in one go. Then we went back to resort & had a tasty lunch. At four o' clock we went to Laxmanpur beach - 1(which was infront of our resort). This was sunset point. It was a two minute journey from car (as it was an extension of the beach infront of our resort). We walked for a while along the beach. At five o' clock, when the sun starts to set, clouds appeared infront of the sun, which made it impossible to see the sunset. Still, we enjoyed the beach there, which was a bit shingly. After it was dark, we went back to our resort. We had snacks and went to sit alongside water and feeling the cool wind blow on our faces. The white moon was looking beautiful with the twinkling stars and dark night, it was a full moon night. While sitting on comfortable wooden benches, the landscape was looking dark and scary. Suddenly three flashes of light scared us out of our wits. Then we realized that it was just a flash of camera. We were much startled by it, and went back to have dinner which was very tasty. After that, we went to sleep. Next day, we woke up at 7.30 am and had our breakfast. Then we lazed around, played cards, etc. At about nine, we walked around the beach infront of our resort (Laxmanpur beach - 1) , and reached the sunset point. Then we strolled back to our resort. We changed into our swimming gear and sat on the corals of Laxmanpur beach - 1, and enjoyed the soft waves of the sea lashing on our bak and front. We spent an hour there till eleven o' clock. Then we dried ourselves and changed our clothes. We took the twelve o' clock ship from Neil Island to Havelock. This was the best part of my seven day trip, and I think this is the best island where we can dive into the blue, and come out & enjoy the green, out of the 572 islands of Andaman and Nicobar Islands.
Written by: Jaspreet Singh Anand, Jaspreet is the son of Mrs & Mr Anand aged about 11 years. He is having a wonderful narration skills and MyAndaman wishes all the best to him. His original hand written document can be read here.
(click on each page to read them)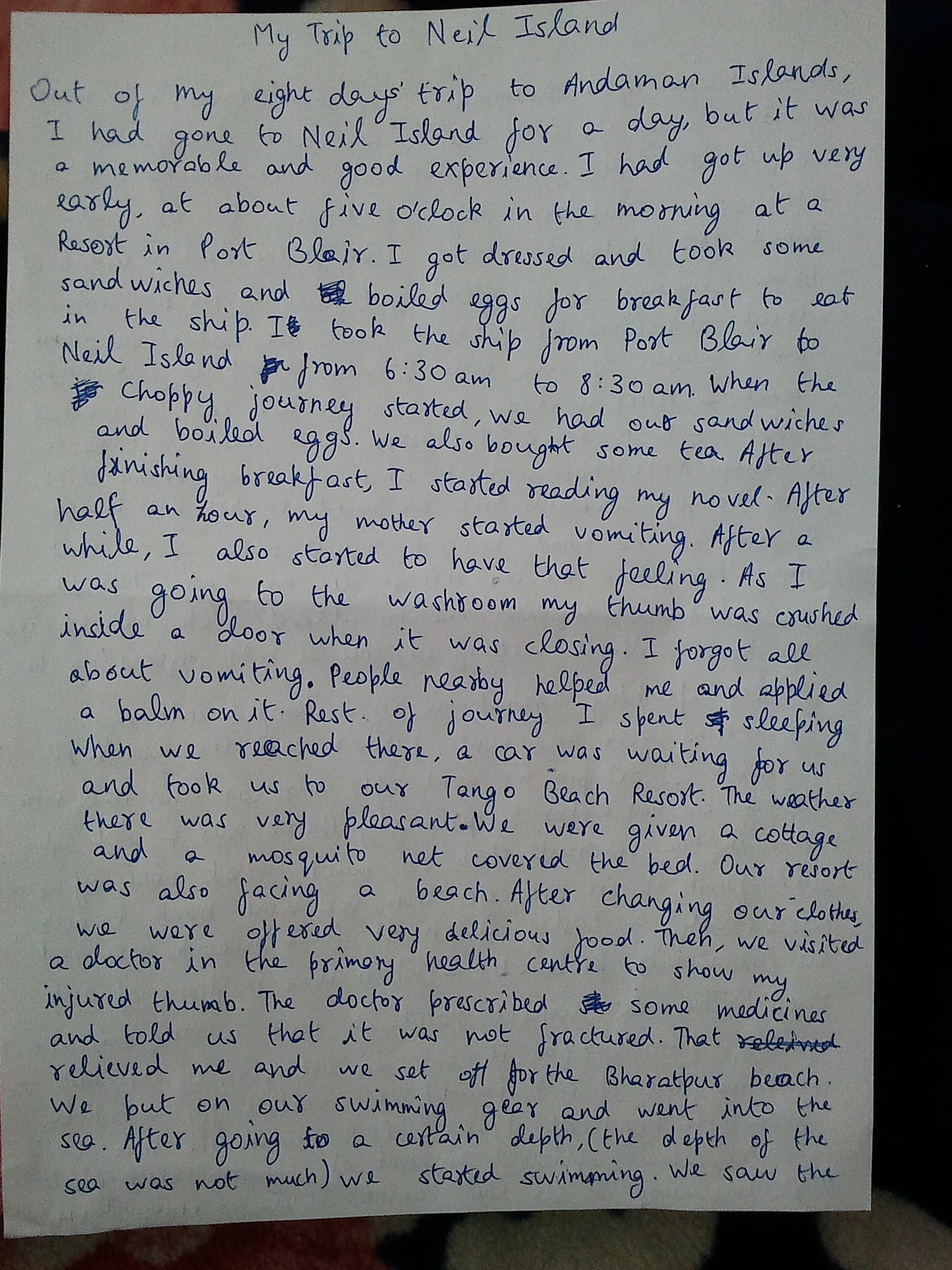 Page 1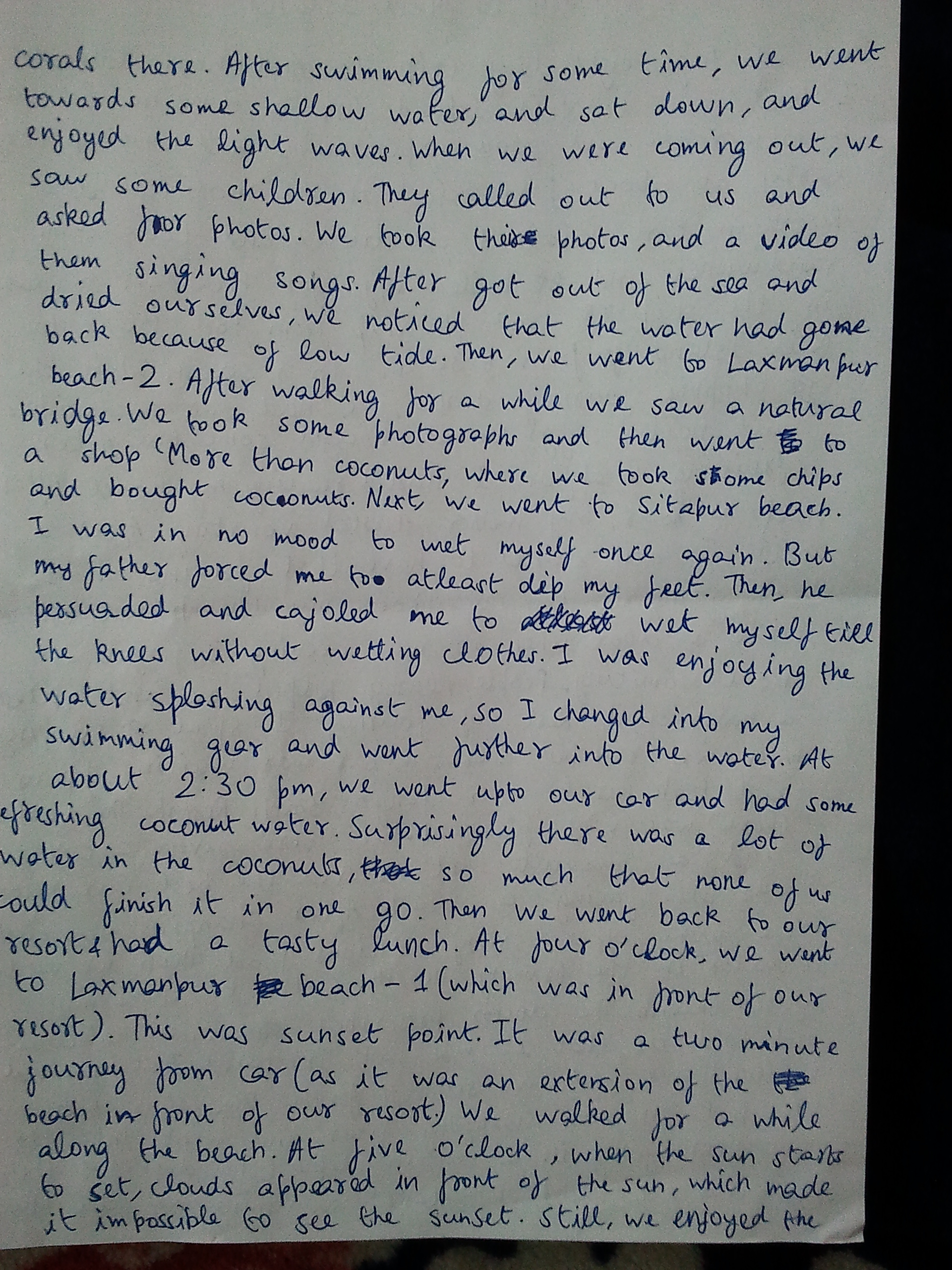 Page 2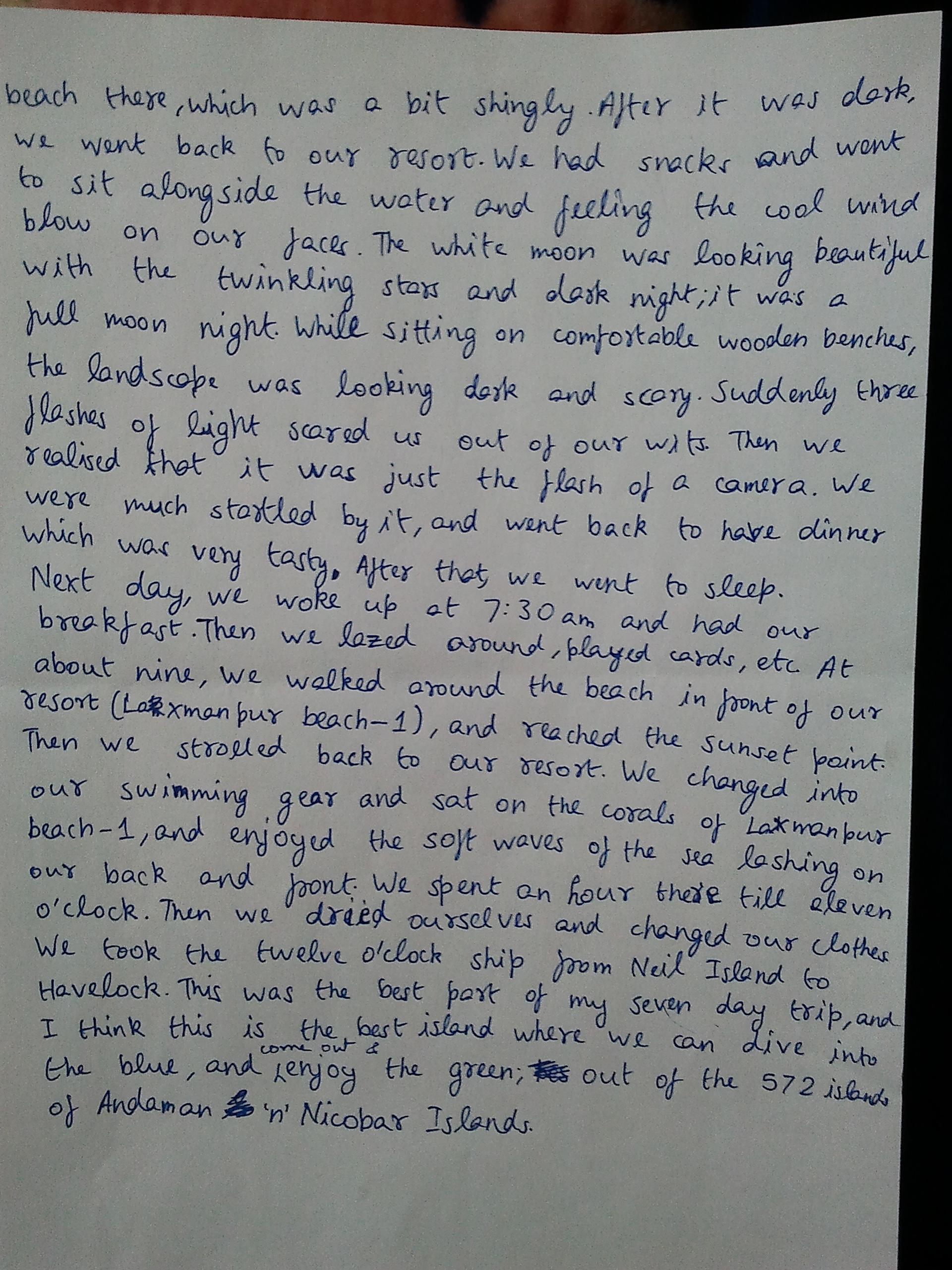 Page 3
Note: This is an unique initiative from myandaman.com to bring the real and candid feedback, reviews about Andaman and Nicobar Island to the world from the real tourists visited Andaman Islands with myandaman.com. All the facts and reviews expressed in the articles of myandaman.com are as on the date of travel by the guest who has written the particular article. Neither myandaman.com nor the writter of the article is responsible for any difference in the facts expressed in the article and the actuals. MyAndaman congratulates and thanks each one of the appreciator/contributor for this honest cause. Lets dive into the ble and come oout green :)
More Articles